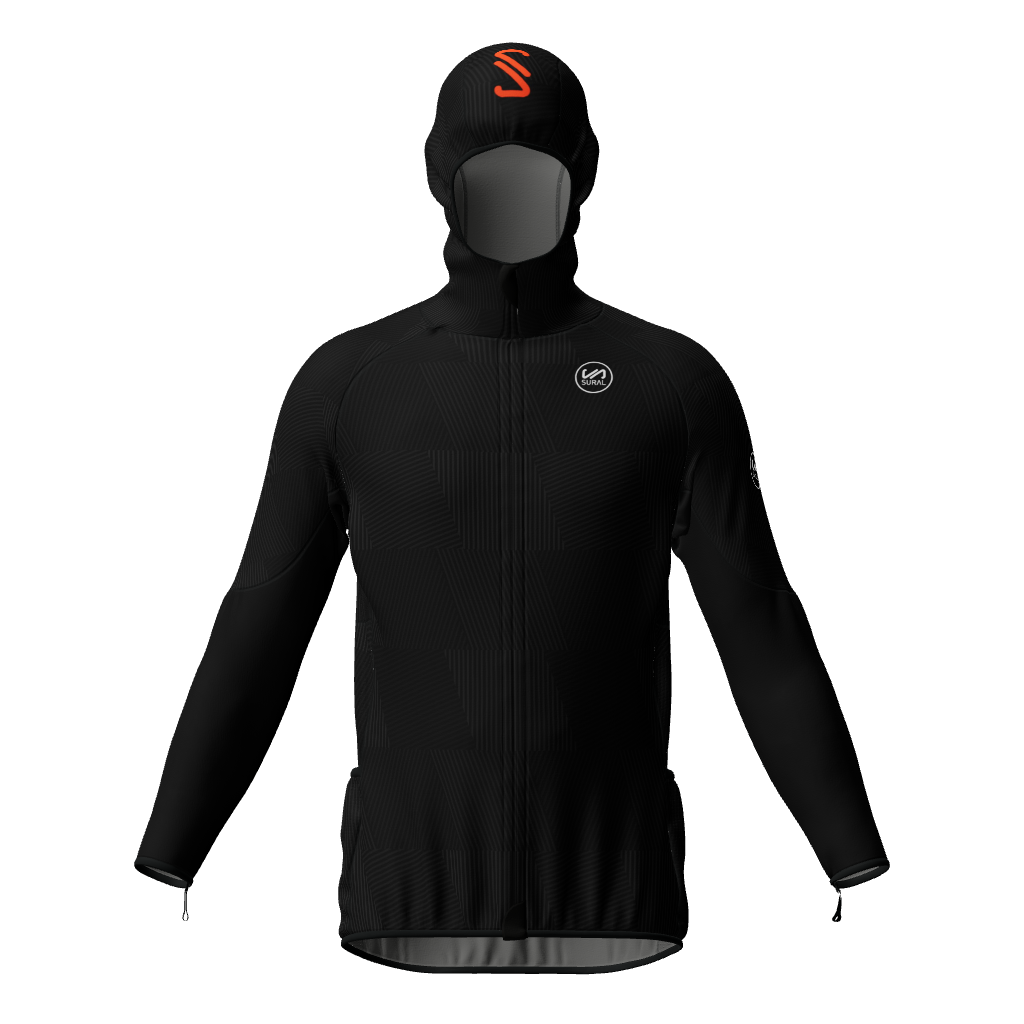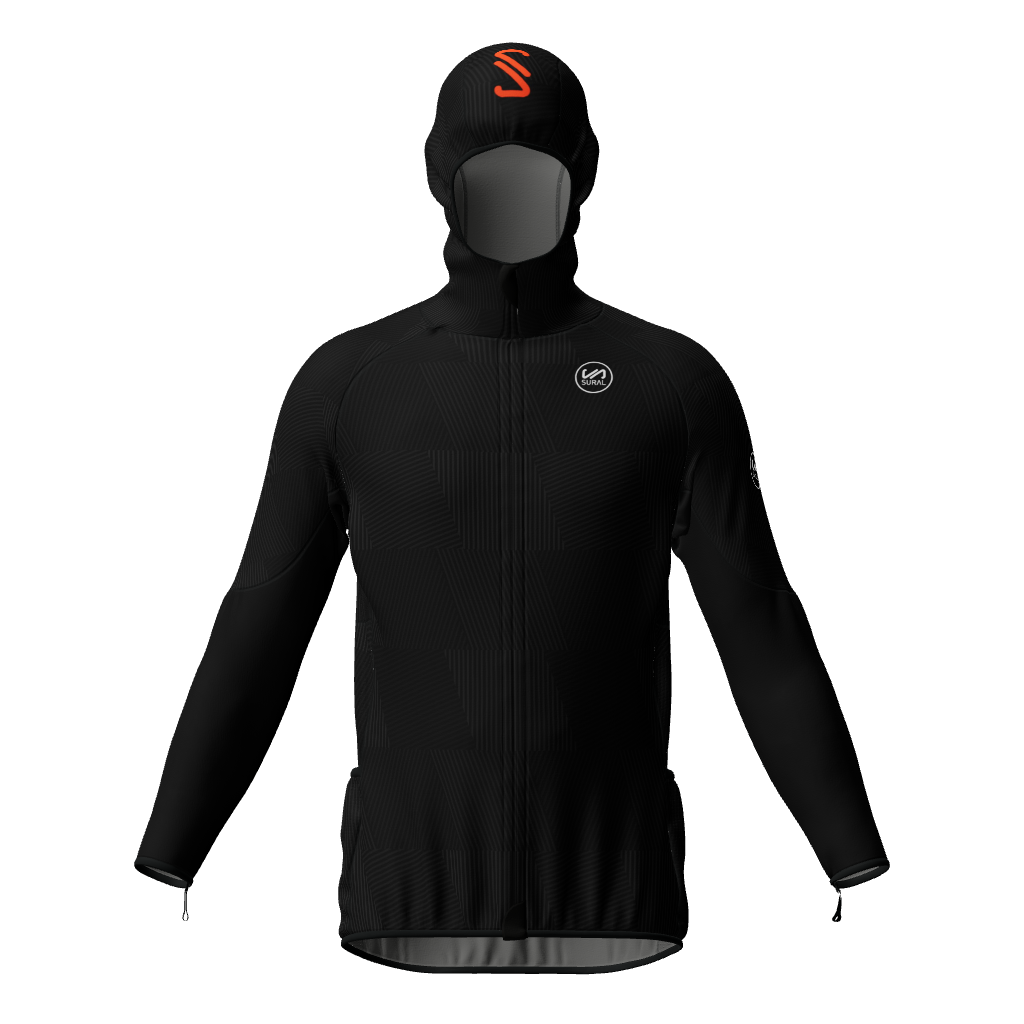 Waterproof Breathable Raincoat KILIMANJARO
Raincoat of 10.00mm column of water and a perspiration R.E.T of 4.5 making it an indispensable garment of very light meteorological insulation 145 gr. With 3 pockets and hood.
2
Product doesn't available.
    Personalizar en 3D
---
30 days warrantie

15 days returns

Shipments: 1-2 Days
ULTRA LIGHT
Lightweight fabric. A lightness that provide a pleasant feeling of comfort, agility and freedom of movement.

CAM LOCK
Zipper with lock.

LASER CUT
Made for ultimate comfort and a seamless finish.

SILICONE GRIP
Anti Turn movement. Greater comfort strength.

TERMOREGULATION
To maintain a constant optimal muscle temperature during intense workout, to minimize the possibility of muscle damage.

NO FRICTION
The soft touch avoids friction and increases our comfort and sense of well being allowing the athletsto concentrate on the physical activity.

CHLORINE RESISTANT
Strong resistance to chlorine and abrasion.

WATER REPELLENT
Total fabric water repellent.

REVOLUTIONARY ELASTICITY
Fabric allows a multidimensional elastic movement, COOLMAX form a second skin, flexingfollowing the body movements this increasing comfort.

100% WATERPROOF
Special fabrics 100% waterproof, that repels water and wind, designed to give maximum protection, leaving you dry whileallowing total perspiration, fast drying, maximum durability, 100% sublimable.

PROGRESSIVE ADAPTATIVE COMPRESSION
Pressure per square cm that excerts specific pressure around the different muscle groups.
ACTIVE: facilitates blood circulation, minimizing stress impact, reduction of impact vibrations.
PASSIVE:facilitates muscle recuperation after any workout.

MULTI-FIBER AND BACTERIAL CAPACITY
The especially engineered fibers allow to creation of high-performance garments that are soft, breathable and moisturewicking. Bacteriostatic, antibacterial and bacteriological properties prevents bacterial proliferation, odour and allergy.

WIND SEALER
Best protection. Windproof fabric.

THERMAL
For medium intensity training in cold weather conditions, from -4º to 12º, where dryness and comfort are essential.

PACKABLE
Foldable garment that can be folded anywhere (example: cycling jersey pocket).

TECHNOLOGIES
Running jacket equipped with the best technical characteristics. Elastic grilles, strategically located in order to ensure a high level of perspiration, as well as a good seal. Full zip. With a very ergonomic hood that prevents movement when you need to wear it and without plastic parts so that it does not generate any kind of discomfort (even in the event of a fall) ultra comfortable. 
It has 3 pockets: One in which you can store your own jacket, almost like keeping other items to store. And two side pockets for more storage.
Extended placket protects the Bib shorts / tights from the main zip of the jersey.
TISSUES
Very light ripstop fabric windstopper and waterproof, but above all very breathable thanks to its strategic vents, for when the temperature rises, which will avoid the discomfort of cold / wind and that you are wet.
Its technical qualities, 10,000mm of water column and a perspiration R.E.T of 4.5,
It is a very light garment with great weather insulation, only 110 grams. Perfect for long untimely outings.
DESIGN

The Kilimanjaro Waterproof Raincoat is the best protection, ultralight and against the elements that you can forget about. Manufactured to take up very little space and at the same time be very practical. It is so light that you feel as if you are not wearing anything and at the same time you will be protected, the wind and rain will not give you problems. It's also lightweight and breathable for when the heat rises. It can also be quickly folded and stored in its own pocket.
One of the best garments in its category. Your great ally from day to day on days of adverse weather. As it is not heat sealed, it has an unbeatable value for money. Suitable for 90% of competitions.
WEIGHT
105-130 
g
WEATHER CONDITIONS
Cold - Wind  |  Rain - Water
PATTERN / CUT

Regular Fit




Slim Fit




Compression Fit




ACTIVITY

ENVIRONMENT
Esta es una vista previa de los productos vistos recientemente por el usuario.
Una vez que el usuario haya visto al menos un producto, este fragmento será visible.
Products you have already seen

Para instalar esta Web App en su iPhone/iPad pulse
y luego Añadir a la pantalla de inicio.